Text by Laura Mullenders / Photography by Max Riché
In the Luxembourg countryside, a small company is taking action to regenerate over one million square meters of old orchards surrounding the landscape. A vision for safeguarding nature and using business as a force for good.
For as long as anyone can remember, the people of Born have lived surrounded by apples and pears. Carlo grew up here. Strolling through the orchards, he tells us stories: "everyone has always known this pear tree, it has been there for at least 200 years", "this tree has a huge hole in its trunk, no one understands how it survives"... It only takes a few minutes to see how much he is attached to the nature around. And then, the story becomes an ambitious and vibrant entrepreneurial adventure.
It all begins on a trip to England over a glass of cider. Carlo and his friends reminisce about the ciders that the past generations used to brew back home. The orchards have become abandoned for many years. The state of the trees is deteriorating, and so are the ecosystem services they provide. Meanwhile, regenerative agriculture is starting to spread. What if its principles could be used in Born?

Carlo Hein, Founder - Ramborn
Growing up in a family of entrepreneurs, Carlo didn't need much more to get started. The Luxembourger has always believed in the power of entrepreneurship to drive change. After exploring and successfully promoting renewable energies, he envisioned a venture to restore market demand for locally, traditionally grown apples and pears. The products sales would provide the necessary means to restore and maintain the trees in the orchards. A true impulse for the ecosystems around and a contribution to the local economy.
The funds to launch the project are gathered, and so it begins. "You have to find people who share the same values to invest in such a project," says Carlo. Luckily for him, these people are his family. He explains: "It is hard to start from scratch and convince the shareholders. However, there is a huge advantage over the competitors in offering to invest in the long term on a social, environmental and profitability standpoint at the same time." He describes a triple bottom line approach, uplifting people, planet, and profit, for the benefit of all.

An apple tree can live up to 120 years, a pear tree up to 400 years
The next move is to renovate the old farmhouse of the small village of 300 inhabitants into a cider factory. Also, it is now crucial to approach the orchard owners in order to get the raw products. Some of them are farmers using the land for their cows. Others are locals who have inherited the ground without using it. The great majority are delighted with the initiative. And so the trees' restoration can begin. The first and key objective is to start from what already exists. In other words, regenerate the elements of the earth that are there, and thereby the species that depend on them.
Everything is here. You just need to preserve it, sums up Carlo.
Caring for a tree that has been abandoned for years can take several hours of work. You have to get equipped to climb and remove unwanted vegetation, mostly mistletoe. With a recovery period of about 2 years, the tree regains its strength and starts producing fruit again when it's not too late already. Chantal is in charge of this restoration work. Going up in the branches has no secrets for her nowadays. "Taking care of the trees brings a great sense of peace. Sometimes, I find myself stressed or upset, and working in nature really calms me down. It's also very gratifying to go back to the place where you've tended a tree and see it regenerate", she says. Since the initiative began, close to a million square metres of land have been restored, and hundreds of tonnes of fruit have been saved from going to waste. These methods can be applied to other crops around the world, such as olive trees, for instance.

The apples and peers are pressed into juice and the rest contains rich nutrients for food supplements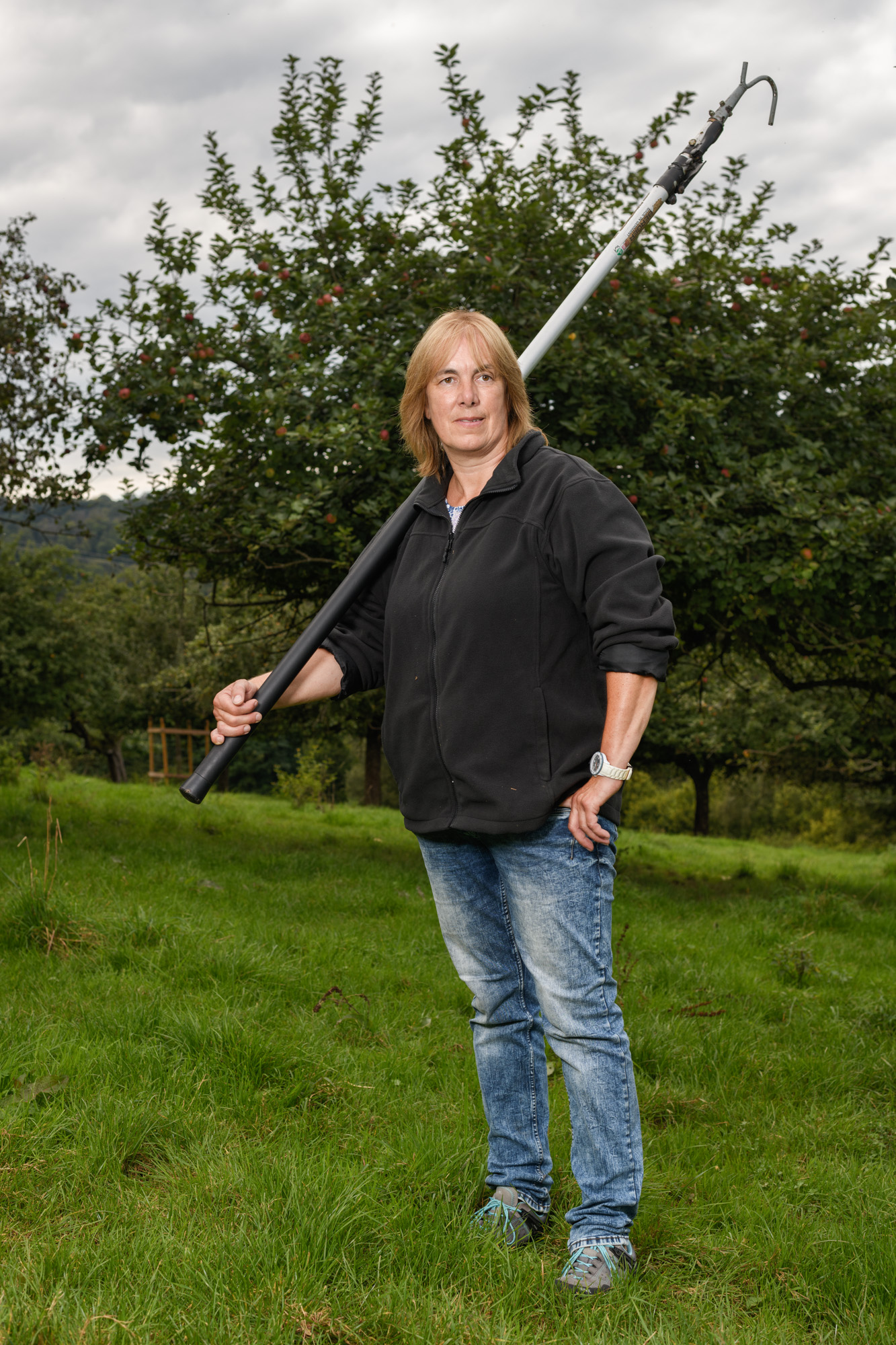 In addition, the company is also planting a large number of new trees. More than 1,000 to date already. These are ancient and local species, some unique to the region. Their great diversity is the secret of the cider and juice quality. "We blend all the varieties. It is what gives our products their unique taste," discloses Chantal. In addition to yielding unique products, these trees also provide carbon sinks in the area itself. They improve the quality of the air, water and soil. They are also a sanctuary for many insects, birds and plants. "The health of our trees in the orchards is a real concern for Luxembourg today. I was astounded to learn about the state of the orchards in the country. We lost 90% of the one million fruit trees since 1900. It's just astonishing," says Carlo.
With crops that do not require external irrigation or pesticides and are harvested using traditional methods, the new and old orchards in Born have (re)turned to havens for biodiversity. This year, researchers even began to study the areas used by the cider mill to monitor the evolution of biodiversity with the conversion of the farmers to organic and regenerative methods. "We work for and with nature through the seasons and two-year natural yield cycles. I couldn't imagine living any other way. Often, people are out in the cities and lose their connection to nature. They no longer understand why it is so important to preserve it," says Stefan, who works in fruit harvesting and maintenance of green areas. To counteract this, visits and pickings are organised with the local community and schools.

Manual harvesting in the orchards
As for companies, when talking about his dream to pursue his projects, Carlo explains that he wants to inspire as many as possible to question themselves, commit, and evolve. It is this approach that enabled the young company to obtain one of the first three BCorp certifications in Luxembourg. "Obtaining the certification helped us to look at new aspects of our business model and to go further in the development of our sustainable journey. We learn every day, and it's wonderful". He continues by saying: "Today, sustainability is still too often missing from business leaders' agendas. I like to have facts and not just ideas. With Ramborn, we can demonstrate in a very concrete way that if a small company can make a difference, so can large ones. The day a big bank or an industrial company becomes B Corp certified because of our story, I will be genuinely convinced that I have helped to make a difference."
After five years of existence, Ramborn employs about eight people, applies the scientific based greenhouse gas emission scheme to achieve net zero in 2022 and prevented more than 1.000,000 kg of food waste.Following a circular approach, the company is beginning to explore ways to transform its residual products into biogas or food supplements. It is also partnering with European research projects to increase the potential of regenerative agriculture across borders.
Did you know?
The combination of vegetable or arboricultural crops with livestock, organic farming, permaculture, agroforestry, aquaculture... a wide variety of methods come together under the name of regenerative agriculture. Although some people call it a radically different form of farming, regenerative agriculture is, in fact, the result of updated and improved pre-industrial methods, thanks to numerous experiments and the sharing of practices and knowledge about soil, water, biodiversity and the many often ignored, interactions that exist in nature. Smallholders and large-scale producers can be part of the dynamic, as this concept can be adapted to different practices and the geographical and social contexts of the cultivated land. And, since creativity is the limit, precursors of the movement, such as Ramborn, are present in every corner of the globe with approaches that are each more exciting than the last.

There are about 250 varieties of apples in Luxembourg