From EMOTION to MOTION
The unavoidable nature of the ecological challenge has finally become fully apparent to us, and with particular violence. This question, which has long been ignored or understated, could only be raised by a succession of observations, evidence, and warnings. This awareness has turned into a damning and massive questioning. It has given birth to anxiety. We have lost a certain lightheartedness, a certain innocence. Many people's minds are consumed day and night by environmental disaster.
Anxiety is becoming more and more prevalent among young and old alike, overwhelmed by the magnitude and speed of the changes in our world. The absence of prospects and future becomes the main threat: paralysis and, therefore, inaction.
How to overcome this state of shock? How to transform these energies too often locked inside? This is the challenge we need to respond and the one for which the speakers have provided some answers.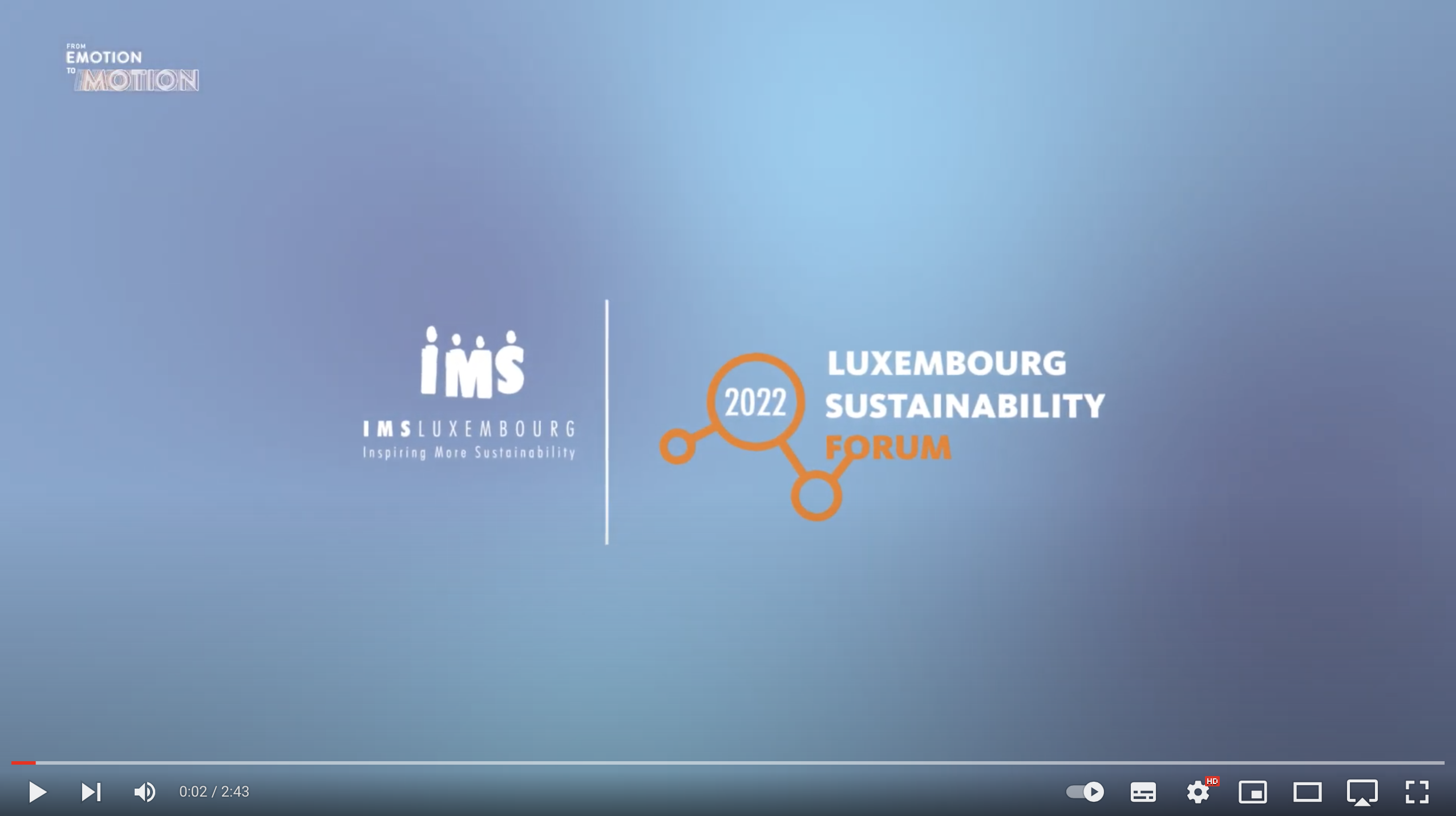 Relive this edition:
EMOTIONS / MOTION

GETTING OUT OF SOLASTALGIA, with GLENN ALBRECHT

Glenn Albrecht has coined a number of neologisms, including the now-famous "Solastalgia", which refers to the growing sense of psychological distress over the destruction of our environment. Today, the Australian philosopher proposes an alternative to the prevailing catastrophism and the end of the world rhetoric. He calls for a revolution of emotions, thanks in particular to a work on language, to enter what he calls "the Symbiocene".
His keynote speech will be followed by a round table discussion moderated by Tomás Sercovichwith
- Joanna Krupp, Student - University of Luxembourg
- Louise König, CEO - The New Division
- Caroline Hickman, Lecturer and researcher - Bath University
SCIENCE VS. EMOTIONS IN THE POST-TRUTH WORLD, with STEPHAN LEWANDOSKY

The battle of opinions is still raging, especially on the web, leading to a polarisation of society. Conspiracy theories are toxic and are amplified by fear and uncertainty. This is what Professor Stephan Lewandowsky, a leading expert on social networks and on the post-truth world, explain to us.
REASONS TO BE CHEERFUL, with JOHn ELKINGTON

For a keynote speech, we are thrilled to welcome one of the most important people in sustainability: John Elkington. He is best known for coining the notion of the triple bottom line with the 3 Ps - People, Planet, and Prosperity. In 2009 John was named 4th in an international survey of Top 100 CSR leaders, after Al Gore, Barack Obama and Anita Roddick. Last year, he won the World Sustainability Award. He has helped create and incubate movements including the B Team, the Dow Jones Sustainability Indexes, and the Global Reporting Initiative.
His idea: mitigating impact, something many companies are currently doing, is not enough. We also need to create positive impact i.e Regenerative Capitalism.
BUSINESS FOR GOOD

After the keynote speech by John Elkington, we will explore concrete solutions with a panel discussion on how business is transforming society. With the presence of :
Maud Larochette, CFO & CHRO - N-SIDE
Oliver Perquy, Director Belux - Nespresso
Paola D'Angelo, Director - Innpact
ADAPTING TO TOMORROW, with CHRISTIAN CLOT

Welcoming Christian Clot is almost a miracle. His obsession? To evolve in extreme environments, to confront so-called « limit » situations to better understand individual's adaptation mechanisms to hostile environments.
For twenty years, he has braved the elements to better understand human nature and its ability to cope with major crises and changes. He has mounted and led terrestrial and marine expeditions. Since 2015, he is the director of the Human Adaptation Institute, which aims to explore the cognitive and physiological mechanisms of human adaptation in real-life situations. He is the author of several books and films and vice-president of the Society of French Explorers (SEF).
& relive the day behind the scenes

Responsability to move beyond the status-quo
The tenth edition of the Luxembourg Sustainability Forum 2021 took place on 13th October at the Tramsshapp for a few lucky people and online for all. This year, Luxembourg's key CSR and sustainable development event had an environmental focus with highlights on biodiversity, climate change, and carbon neutrality.
Relive this edition:
URGENT: CONVERSATION, with NATASHA TSAKOS

A poignant "zoom" conversation between the planet and Natasha Tsakos, 2030 Ambassador for the United Nations, interactive designer and committed artist.
Generate Positive Impact
6 hours of live, 10 cameras, 2 studios, remote speakers... For the first time, on 15 September 2020, the unmissable CSR event was entirely broadcasted . To share knowledge and best practices on various subjects such as the social and solidarity economy, infobesity, management of new generations.
Relive this exclusive edition:
KEYNOTE SPEECH AND ROUND TABLE "THE ROLE OF THE SSE IN THE FACE OF MAJOR CHALLENGES"

Emmanuel Soulias, CEO of Pur Projet opened the event. PUR Projet helps companies to restore the ecosystems on which they depend (through agroforestry among others) while enabling local communities to improve their living condiction through long-term projects.
La table ronde "Le rôle de l'économie sociale et solidaire face aux grands défis sociétaux" avec Emmanuel Soulias (Pur Projet), Marie-Geneviève Loys Carreiras (BNP Paribas Asset Management), Benjamin Cavalli (Programme Malin), Benoît Bonello (Suez France) et Nancy Thomas (IMS Luxembourg)
At the crossroads of public policies, common goods and, societal issues, social entrepreneurship demonstrates through numerous examples in Europe and around the world its capacity to take up the challenge of sustainable development.
Discover how your company can be active and come and rethink your business model!
-
ROUND TABLE "KNOWLEDGE MANAGEMENT: PEOPLE ARE THE INFORMATION HEART"

What cognitive footprint induce our ever more instantaneous ways of working? The round table "Knowledge Management: people are the information heart" discusses digital well-being, positive collaboration, and efficient flow of professional information. With Caroline Sauvajol-Rialland (So Comment), Gaëtan de Lavilléon (Cog'X), Olivier Charbonnier (Dsides) and Mathilde Leré (IMS Luxembourg)
-
IN PRACTICE "FROM HYPERCONNECTED TO DIGITAL SAVVY: LET'S TAKE THE FIRST STEP"

Where to start to reduce professional hyperconnection? Thanks to our guests' experiences, discover individual and collective good practices. Inspiration to take a first digital savvy step is just one click away.
-
ROUND TABLE "NEW GENERATIONS MANAGEMENT: HOW TO PREPARE AND RETHINK YOUR ORGANIZATION"

What are the trends? How are these new generations behaving? How to attract them and what to do to welcome / accompany them in the company? By which value offer? How to adapt positions and with which tools? With Karine Blanc (Décathlon Luxembourg), François Bade (Deloitte), Matthieu Wendling (Groupe Inov-On)​ and Christian Scharff (IMS Luxembourg)
-
ENTRETIEN GRAND INVITÉ : RYADH SALLEM

The multiple Paralympic champion and SSE business leader delivered a poignant speech on the need to change our economic and social systems.
-
​

& relive the day behind the scenes

Dream of the possibilities
On 25 April 2019, the 8th edition of the Luxembourg Sustainability Forum organised by IMS Luxembourg (Inspiring More Sustainability) took place. This edition welcomed more than 300 participants and 35 speakers to the Cercle Cité, with a rich and innovative program!