SAVE THE DATE
The tenth edition of the Luxembourg Sustainability Forum will be held on October 13th. This year, the unmissable CSR and sustainable development event in Luxembourg will focus on the environment with highlights on biodiversity, climate change and carbon neutrality.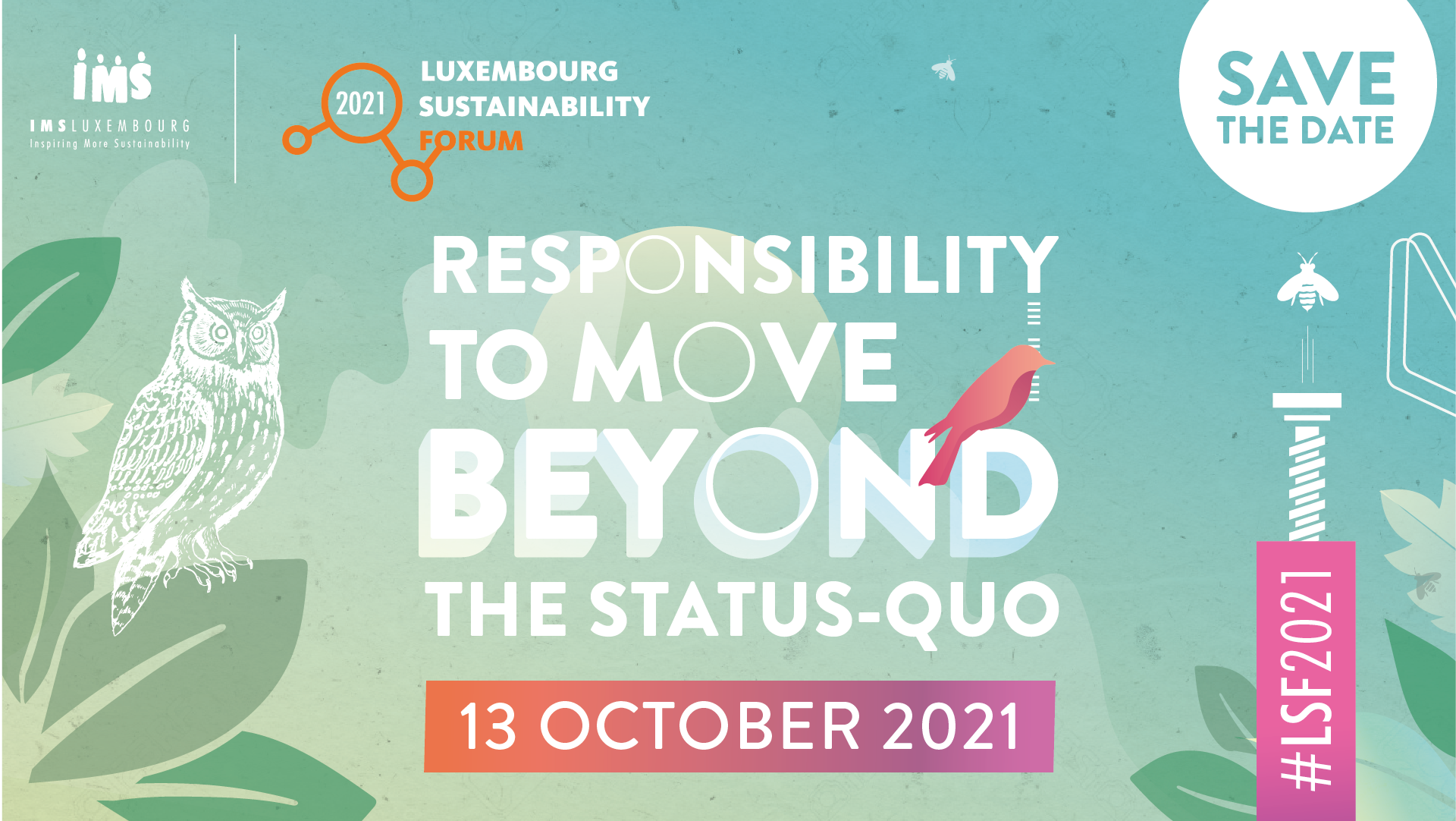 They already support us

If you would like to support the leading CSR event in Luxembourg, contact nadia.azarfane@imslux.lu

6 hours of live, 10 cameras, 2 studios, remote speakers... For the first time, on 15 September 2020, the unmissable CSR event was entirely broadcasted . To share knowledge and best practices on various subjects such as the social and solidarity economy, infobesity, management of new generations.
Relive this exclusive edition:
KEYNOTE SPEECH AND ROUND TABLE "THE ROLE OF THE SSE IN THE FACE OF MAJOR CHALLENGES"

Emmanuel Soulias, CEO of Pur Projet opened the event. PUR Projet helps companies to restore the ecosystems on which they depend (through agroforestry among others) while enabling local communities to improve their living condiction through long-term projects.
La table ronde "Le rôle de l'économie sociale et solidaire face aux grands défis sociétaux" avec Emmanuel Soulias (Pur Projet), Marie-Geneviève Loys Carreiras (BNP Paribas Asset Management), Benjamin Cavalli (Programme Malin), Benoît Bonello (Suez France) et Nancy Thomas (IMS Luxembourg)
At the crossroads of public policies, common goods and, societal issues, social entrepreneurship demonstrates through numerous examples in Europe and around the world its capacity to take up the challenge of sustainable development.
Discover how your company can be active and come and rethink your business model!
-
ROUND TABLE "KNOWLEDGE MANAGEMENT: PEOPLE ARE THE INFORMATION HEART"

What cognitive footprint induce our ever more instantaneous ways of working? The round table "Knowledge Management: people are the information heart" discusses digital well-being, positive collaboration, and efficient flow of professional information. With Caroline Sauvajol-Rialland (So Comment), Gaëtan de Lavilléon (Cog'X), Olivier Charbonnier (Dsides) and Mathilde Leré (IMS Luxembourg)
-
IN PRACTICE "FROM HYPERCONNECTED TO DIGITAL SAVVY: LET'S TAKE THE FIRST STEP"

Where to start to reduce professional hyperconnection? Thanks to our guests' experiences, discover individual and collective good practices. Inspiration to take a first digital savvy step is just one click away.
-
ROUND TABLE "NEW GENERATIONS MANAGEMENT: HOW TO PREPARE AND RETHINK YOUR ORGANIZATION"

What are the trends? How are these new generations behaving? How to attract them and what to do to welcome / accompany them in the company? By which value offer? How to adapt positions and with which tools? With Karine Blanc (Décathlon Luxembourg), François Bade (Deloitte), Matthieu Wendling (Groupe Inov-On)​ and Christian Scharff (IMS Luxembourg)
-
ENTRETIEN GRAND INVITÉ : RYADH SALLEM

The multiple Paralympic champion and SSE business leader delivered a poignant speech on the need to change our economic and social systems.
-
​

& relive the day behind the scenes

Dream of the possibilities
On 25 April 2019, the 8th edition of the Luxembourg Sustainability Forum organised by IMS Luxembourg (Inspiring More Sustainability) took place. This edition welcomed more than 300 participants and 35 speakers to the Cercle Cité, with a rich and innovative program!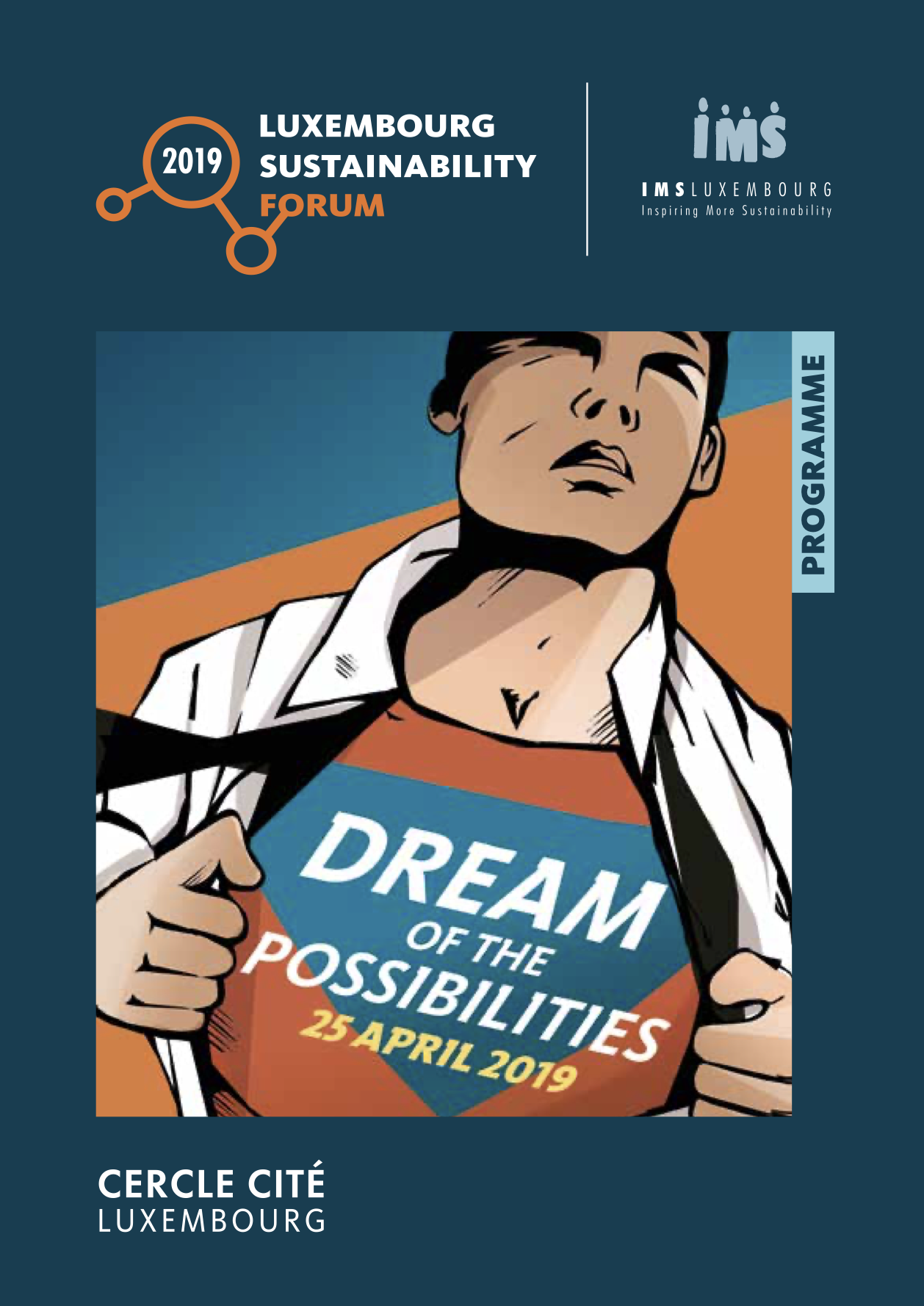 Celebrating 10 years
On 21 November 2017 took place the 7th edition of the Luxembourg Sustainability Forum organised by IMS Luxembourg (Inspiring More Sustainability).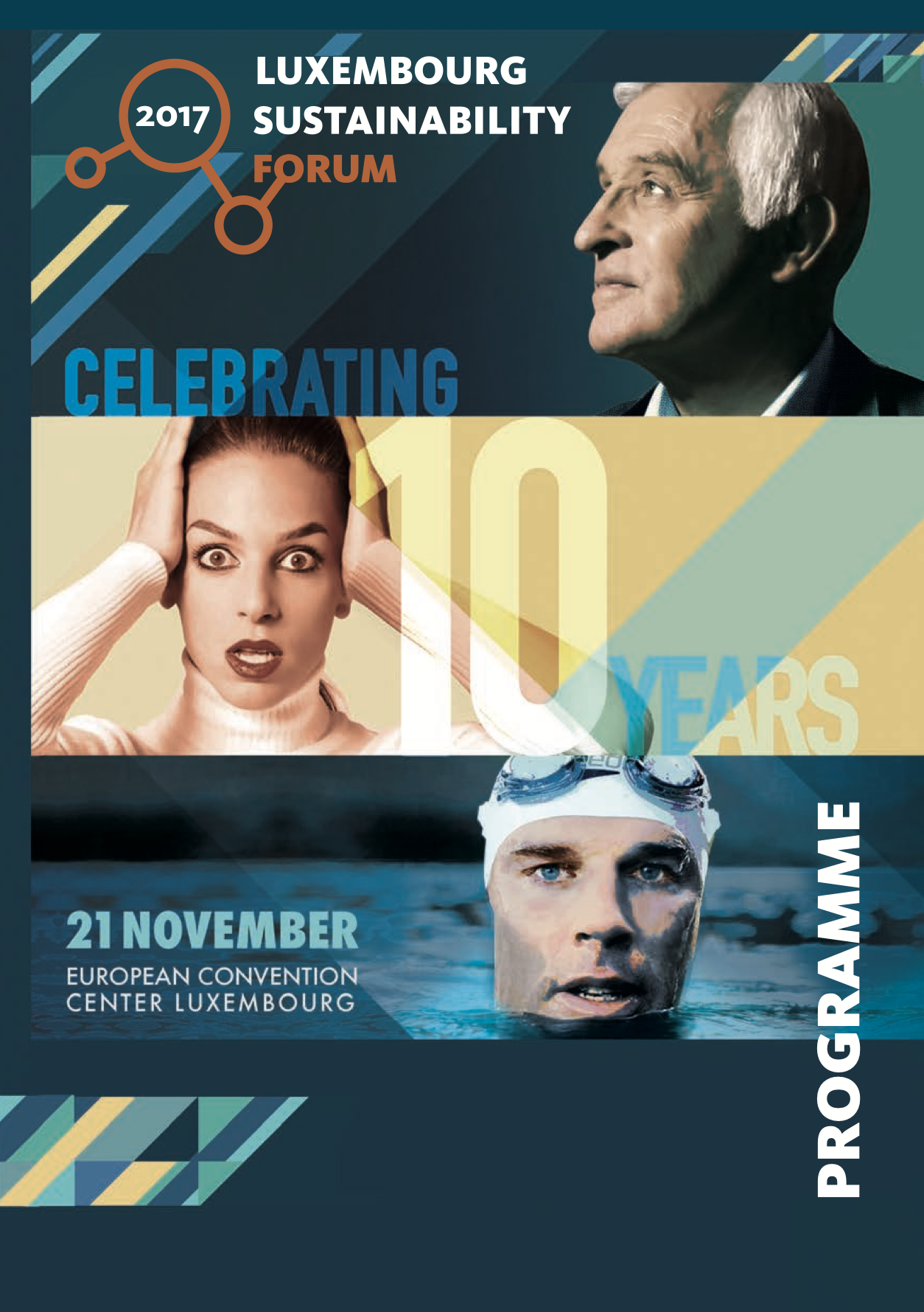 The Luxembourg Sustainability Forum is :
Respecting the climate-neutral commitment
Remove all single-use plastics.
Minimize waste production and sort it out
Favouring dematerialized channels to communicate
Choose local suppliers who are open to dialogue and who are looking for innovative and sustainable solutions.
Work to the maximum to allow for diversity within our panels.
Work to improve accessibility by providing four language translations.
Our suppliers
It is with the help and commitment of these two service providers, who have been working with us for several years that we can realize this dematerialized Forum in multilingual live streaming:
Apex: a company specialized in the technical realization of corporate events, conferences, events, parties or trade shows (sound, video broadcasting, lighting, etc.).
Free Lens: FreeLens is a production company specialized in corporate and TV audiovisual services such as video production, Livestream and TV broadcasting.
_________________________
LuxVisual: professionals in large format digital printing, Lux Visual has worked with IMS to find the most adapted and sustainable solutions: design of reusable media or recyclable materials including beelite reboard and solvent-free inks.
Njörd: a committed caterer and restaurateur, Njörd was able to listen to our needs and proposed vegetarian meal trays with local and organic products.
Meliá Luxembourg: our guests were coming from far and wide live in this eco-labelled establishment whose CSR policy resonates with our fields of action: elimination of single-use plastics, use of larger garbage bags, use of large-format dispensers for hygiene products, communication via digital tools, catering integrating local products...
Mamie et Moi: the protective masks distributed during the Forum are made by Renée, a member of the Mamie et Moi association. The Mamie et Moi initiative was launched in 2012, with knitting as a vector for links between generations. The ASBL offers meetings in the form of workshops, knitting cafés and courses, always led by the grannies of their network. Since 2018, they have opened their actions to other skills such as cooking, storytelling and gardening.
Our partners
MyClimate: IMS strives to limit its carbon footprint as much as possible. After several years of collaboration, IMS Luxembourg and MyClimate signed a partnership agreement in January 2017 allowing us to offset the carbon footprint of all our activities through the Mobisol Smart Solar Homes project, which installs high-tech solar-powered home systems based on new technologies.
Oekozenter: To combine a quality approach with the desire to reduce the environmental impact of this event, IMS Luxembourg called upon the Oekozenter to benefit from its advice and recommendations, based on work carried out in the framework of the MICE Cluster and supported by the Ministry of Economy and the Ministry of Sustainable Development and Infrastructure.