The Luxembourg Sustainability Forum (LSF) is the must-attend event for sustainable development in Luxembourg. Organised each year by the IMS team, it provides new perspectives and concrete and inspiring solutions to environmental and social challenges, thanks to a high-quality programme.
Open to all and a true crossroads of stakeholders; this day brings together renowned personalities, experts, companies, associations, public organisations, and students... all committed to a resilient and inclusive society.
An event not to be missed.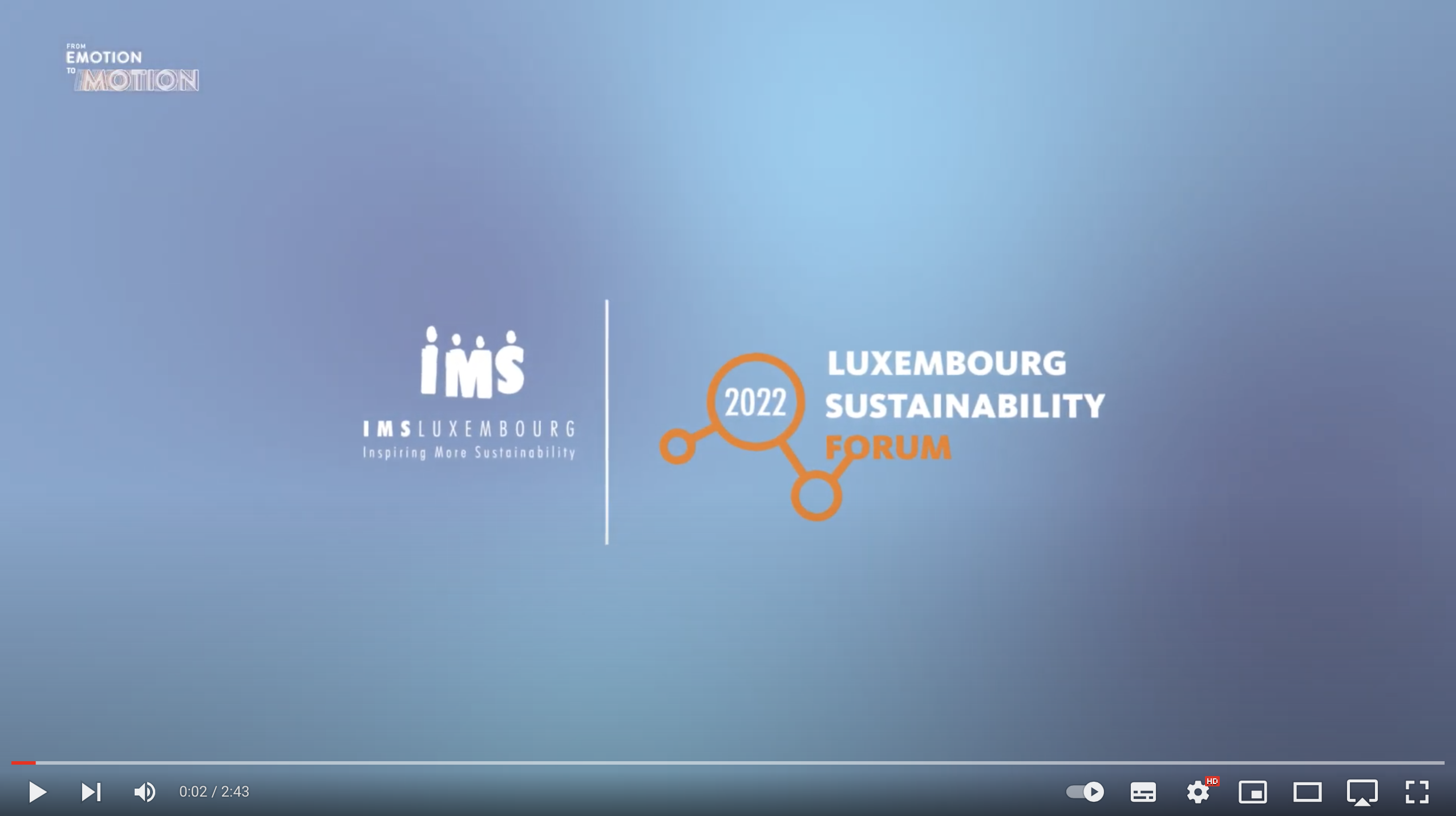 The LSF in a few figures
In 2023, IMS is organising the 12th edition of the LSF. Since its creation, the Luxembourg Sustainability Forum has welcomed more than 4400 participants.
216 international experts, professionals and artists have shared their research, initiatives, and best practices. Anne Larigauderie, Lewis Pugh, Jean Jouzel, Jeremy Rifkin, John Elkington, Caroline Hickman, Marie-Monique Robin, Alexis Rosenfeld, Natasha Tsakos, and Alejandro Duran... are some of the personalities we were happy to welcome.
Raising awareness
This event is free and open to all. It is designed around an original format, namely a TV show filmed live and with an audience. The LSF is broadcast live on the websites imslux.lu and rtl.lu with simultaneous translation into German, English and French. In addition to high attendance, this benchmark event receives an important media coverage.
Expressing the unspeakable
Each edition of the LSF features an artistic performance: exhibition, immersive video, music, show...These experiences inspire, leave room for the interpretation and emotions of the participants.
Taking concrete action
Local and national actors are invited to share the concrete actions they have tested and implemented. Everyone can be inspired, adapt, and share these initiatives.
Independent programme
IMS plans the content of the event in coordination with Sustainability Mag. This forward-looking magazine highlights the many sustainable ideas for the future and features the thinkers and doers of tomorrow's society.
The lasting support of our partners
The Luxembourg Sustainability Forum benefits from the valuable support of numerous private and public partners. Our partners trust us to offer innovative and high-quality editions. The sponsorship of the LSF is not related to the programme.
For more details, please consult the counterpart grid here.
To become a sponsor for the next edition, contact Nadia.
Extending the experience
Since 2020, replays of the LSF have been available on YouTube after each edition. In this way, the life of the content is extended. It can be shared and used to raise awareness of multiple themes: reinventing capitalism, climate and biodiversity, management of the new generations, low-tech, the role of the social and solidarity economy..