Meet, exchange and collaborate between companies and digital initiatives.
The Digital Skills Partnership programme aims to facilitate exchanges and create win-win digital partnerships between companies and digital initiatives.
Such initiatives can include associations and NGOs, public actors, schools, training providers, research organisations, and grassroots initiatives. They are committed to the digital field and want to make a positive difference in society.
Digital technology has become essential in our daily lives, profoundly changing how we communicate, work, learn, and interact with our environment. Thus, all societal actors are called upon to adapt to this digital transformation. At IMS, we believe digitalisation is crucial for addressing current societal challenges and creating a sustainable future for all. This challenge requires collaboration and skill-sharing from all actors involved in the transition, emphasising the importance of a collective approach.
Key Partners
The Digital Skills Partnership program is supported by the Digital Luxembourg initiative from the Ministry of State's Media, Connectivity, and Digital Policy Service (SMC), the European Social Fund, and the Digital Skills and Jobs Coalition.
A win-win digital partnership opportunity.
Participating businesses can support local initiatives by concretely implementing their CSR policy, mobilising their employees, and taking an active role in projects with a positive impact.
For initiatives, DSP provides visibility; it is an opportunity to raise awareness of their activities and receive targeted assistance in the partnership established.
Programme agenda
This program unfolds through several key phases:
Preparation workshops tailored for businesses and project leaders, aimed at effectively equipping them for partnership creation.
A 'Digital Skills Matchmaking' event designed in a Speed Meeting format. This significant gathering presents a unique opportunity for companies and initiatives to connect, exchange ideas, and decide to partner up.
Follow-up workshops designed to nurture and cultivate newly established partnerships, ensuring their ongoing success

Why participate in Digital Skills partnership?

The DSP allows companies to meet project leaders and establish win-win partnerships.
As a firm, participating can allow you to:
• Boost your management and HR processes: improve internal cohesion, mobilise your employees, highlight their skills, streamline recruitment processes, and more.
• Concretely implement an aspect of your CSR strategy and develop more responsible practices.
• Strengthen the visibility and reputation of your company.
• Expand your knowledge: benefit from the expertise of associations and stay informed about the changing job market and the current and future transformation of skills and professions.
What types of partnerships are possible?

4 types of partnerships are possible:
- Skills-based sponsorship or coaching: for example, assistance with website creation, a digital communication campaign development or advice regarding information systems
- Donation / loan / rental: computers, software, office equipment, workspace, loan of vehicles, etc.
- Internships in your company
- Financial support
The type of partnership is to be discussed between the two parties according to the needs and possibilities of each
What does skills-based sponsorship mean?

Skills-based sponsorship involves making employees available during working hours to carry out actions of general interest, whether they use their professional skills or not. Skills sponsorship is at the heart of corporate social responsibility (CSR) issues.
At a time when employees express a need for commitment and purpose in their professional lives, skills sponsorship gives them the means to engage. It strengthens the sense of belonging, promotes openness to the outside world, and the acquisition of new skills.
There are two types of skills sponsorship:
• Provision of services: the company provides an organisation with a specific task or service free of charge.
• Secondment of human resources: one or more employees are made available to the initiative during their working hours. The company remains the employer, but the beneficiary organisation will manage their work during this period.
what is the digital skills matchmaking event and how does it work?

The Digital Skills Matchmaking event is the main event of the Digital Skills Partnership program. It is organised in a Speed Meeting format. This large gathering provides a unique opportunity for businesses and initiatives to connect, share their ideas, and decide to create partnerships.
After an introduction, the participants will exchange ideas in a convivial setting with food and drinks. Every 7 minutes, you will have to change interlocutors to meet as many people as possible, and thus, why not establish several partnerships?
Is it mandatory to enter a partnership?

No, you can participate in the programme without finalising partnerships if no opportunity perfectly aligns with your needs. Regardless of the situation, the Digital Skills Partnership provides a conducive platform to meet valuable individuals and organisations, thus establishing fruitful connections with fellow participants.
When and where do the digital skills partnership programme stages take place?

The Digital Skills Matchmaking took place on June 29, 2023, from 12 p.m. to 2 p.m. The date for the 2024 edition has yet to be determined.
To join the upcoming stages of the program, please get in touch with the Project Manager.
-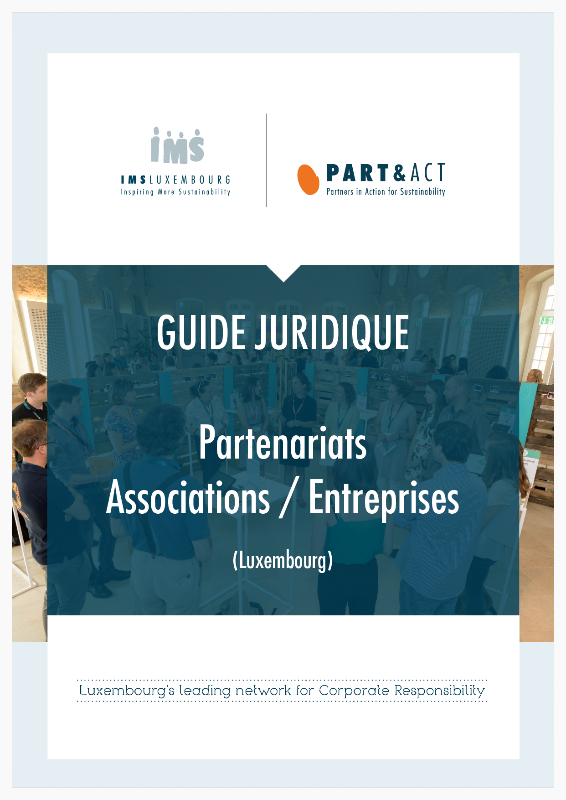 Legal guide (Luxembourg)
Partnership Associations - Companies
Publication available to IMS members and associations on request: info@imslux.lu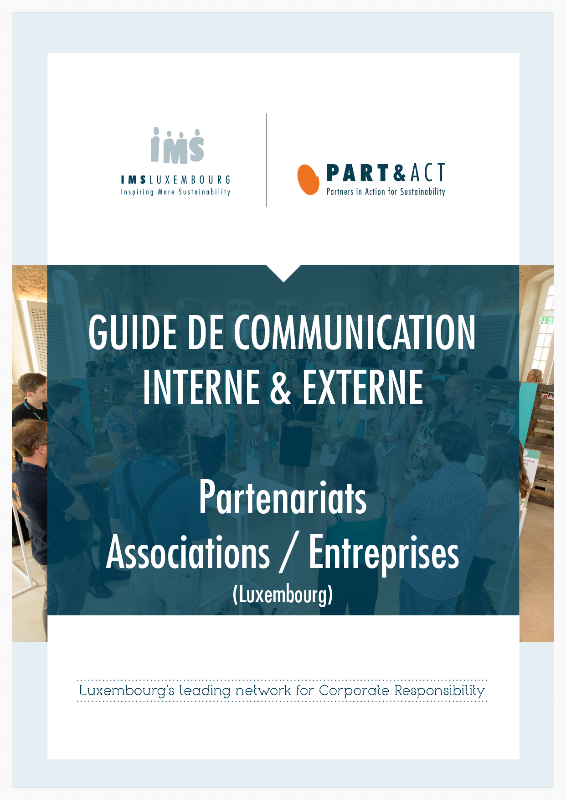 Internal and external communication guide
Partnership Associations - Companies
Publication available to IMS members and associations on request: info@imslux.lu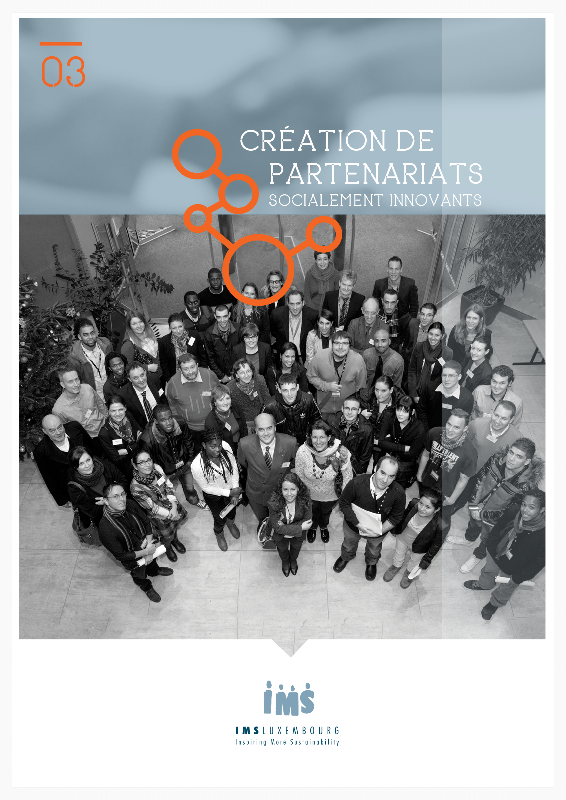 Creating socially innovative partnerships
Publication available to IMS members on request: info@imslux.lu