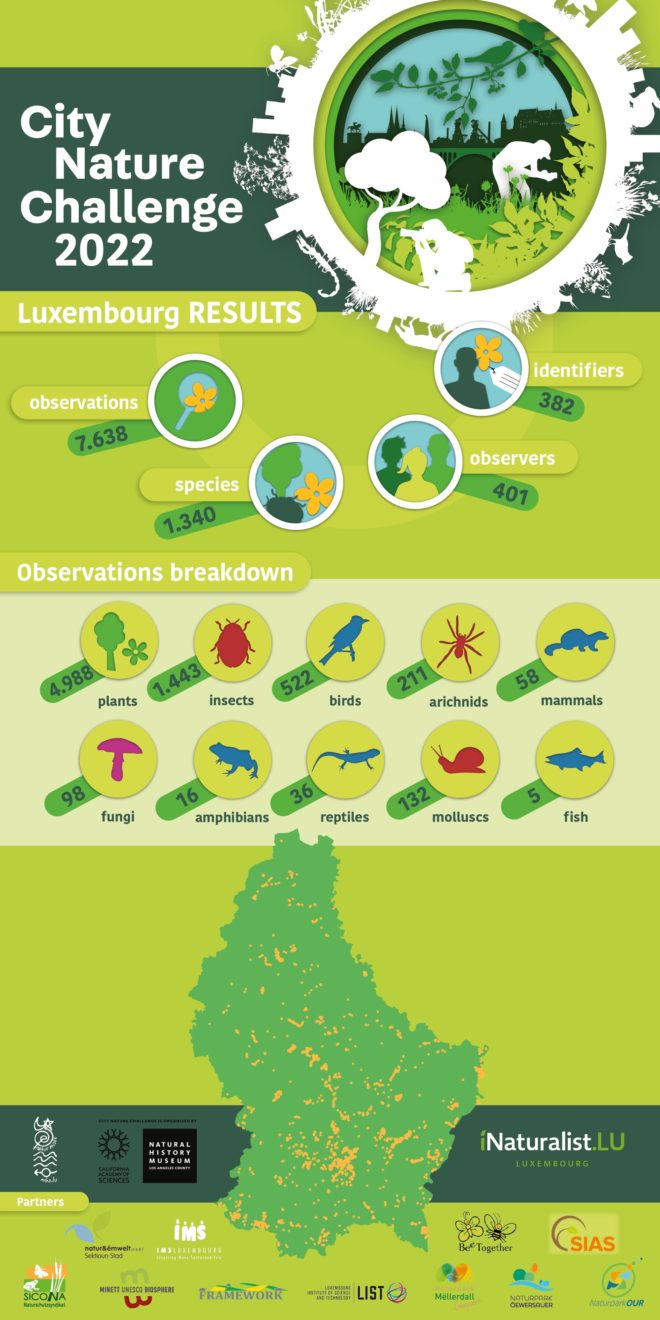 The City Nature Challenge is an annual event in cities worldwide where citizens are asked to observe and record as many wildlife species as possible. In 2022, it took place from 29 April to 2 May.
A total of 67,220 people worldwide took part in the 7th edition of the City Nature Challenge this year, 15,000 more than in the previous edition! One million six hundred ninety-four thousand eight hundred seventy-seven biodiversity observations were made in the 445 regions covering 47 countries, including Luxembourg. More than 50,000 species were documented, including 2,244 rare/endangered/threatened species. The City Nature Challenge again contributed to the highest number of observations downloaded with the iNaturalist application in one week.
All contributions made to the NCC2022 via iNaturalist can be found on the iNaturalist project page: https://inaturalist.lu/projects/city-nature-challenge-2022
In Luxembourg, the CNC2022 was the fourth edition of the challenge organised by the National Museum of Natural History. This year, the competition was supported by many partners who all offered their events where participants could explore the biodiversity of Luxembourg. Many thanks to SICONA, SIAS, Minett UNESCO Biosphere, Natur- & Geopark Mëllerdall, Naturpark Our, Naturpark Öewersauer, LIST, FRAMEWORK, IMS, Bee Together and natur&ëmwelt Sektioun Stad.
A total of 401 people participated and recorded 7,638 observations with the iNaturalist application. A total of 1,340 different species were found, and almost half of all statements have already been validated by 382 expert users and are now available for science.