As part of its Zero Single-Use Plastic project, IMS invites you to commit in the fight against single-use plastics.
September, the 11th, 2018 during its Luxembourg CEO Sustainability Club dinner, IMS called on the participating leaders to sign the Zero Single-Use Plastic manifesto. The objective is clear: Eliminate single-use plastic of your company by the end of the year 2020. Over 20 companies already have signed the manifesto. Today, IMS puts its expertise to your profit to fight plastic pollution. Find the whole programme IMS, dedicates to its member.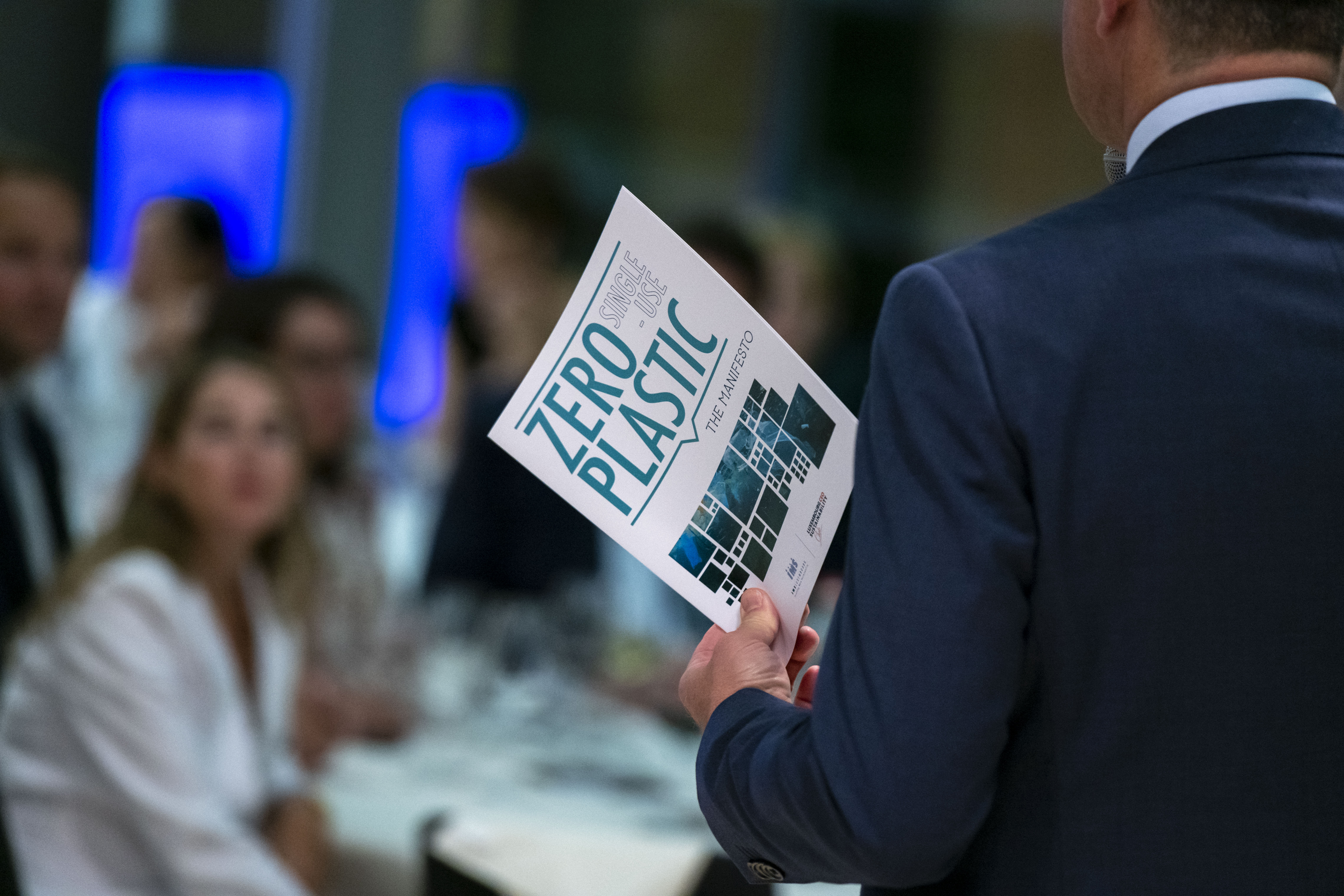 Also, starting October the 17th, a dedicated working group will be launched to co-create concrete solutions to face this challenge. Click here to discover more about the issue of single-use plastic.
A true race against the clock
Plastic was invented less than a century ago, yet we have produced more than 8 billion tons of this material, which is essentially made from hydrocarbons. Designed to last and particularly durable, it is nevertheless intended for very limited uses, even single-use and has become the sad symbol of the ultra-disposable.
The result is incredible: it is largely non-biodegradable, spreading in the wild, causing massive damage to the environment, the cost of which by 2030 would rise to 22 billion euros. Six to 8.5 million tons of plastics are discharged into the oceans each year, at this frantic rate by 2050, the seas will contain more plastic mass than fish. The consequences are catastrophic for the entire ecosystem, with more than a million animals dying each year. Thus far, 250 species have already ingested plastic, affecting our entire food chain. Over time, this material has transformed into a multitude of microparticles which are extremely hazardous for health and making its collection almost impossible. Today, 72% of drinking water is contaminated in Europe and 83% in the world. Beyond the oceans and rivers, plastic is now found in the drinks and foods we consume and the air we breathe.
Major public health problem, serious damage to biodiversity, significant contribution to global warming, we are facing an unprecedented multi-faceted moment in time.
But this blind race to the uncontrollable is not inevitable.
A momentum is rising. Around the world, initiatives are emerging, cities and states are seeking solutions and consumers are making their voices heard. They are 94% to expect companies to reduce their plastic packaging.
Overcoming this pollution requires a global effort. Luxembourg produces 80,000 tons of plastic waste each year (well above the European average per capita), of which only half is recycled or recovered.
It is now time to say stop!
In partnership with the Ministry of Sustainable Development and Infrastructure